EDIT MAIN
MILAN COUNSELING STAFF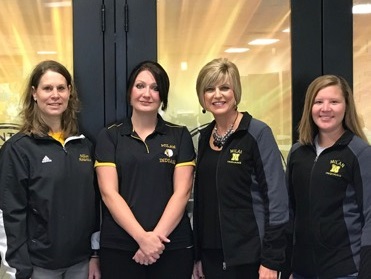 Brenda Schwering - Milan Elementary School Counselor (K-4)
Email: brenda.schwering@milan.k12.in.us
Phone: 812-654-2922
Brenda Schwering graduated with honors (Magna Cum Laude) from the University of Indianapolis with a Bachelor of Science degree in elementary education and a minor in special education. After several years of teaching first and fourth grade at Milan Elementary, she earned her Master's degree in Counseling from IUPUI. Mrs. Schwering has been a school counselor for over twenty years and is passionate about her job striving to make a positive difference in the lives of the students and families in Milan. She was selected in 2017 as a Hero of Character from the Character Council of Greater Cincinnati and Northern Kentucky. Mrs. Schwering looks forward to working with the students and their families and invites you to reach out to her as needed.
For more information concerning Milan Elementary School's counseling program, please visit link.
Gayle Healy - Milan Middle School / Milan Intermediate School Counselor (Grades 5-8)
Email: gayle.healy@milan.k12.in.us
Phone: 812-654-1616
Gayle Healy has been a school counselor since 2003 and has experience at the high school and middle school levels. She attended Valparaiso University for her undergraduate degree in mathematics education and received her school counseling degree from Indiana University - South Bend. She worked in 2 schools in Northern Indiana until 2007 when she started in the Milan school corporation. Now working at Milan Middle School, which is a Gold Star school, she strives to service all students' needs in cooperation with the student services coordinator, Stephanie Schwing-Stamper. For more on what Milan Middle School and Gayle can do for your child.
For more information, Please visit these links: Milan Middle School Page and Milan Intermediate School page.
Tina Mutz - Milan High School Director of Guidance
Email: tina.mutz@milan.k12.in.us
Phone: 812-654-3096
Tina Mutz graduated with Honors (Magna Cum Laude) from Marian University in Indianapolis with a major in mathematics and a minor in business. She returned to Marian University to finish the coursework required to complete her teaching license in mathematics and was hired on at Brownsburg High School in 2011 as a Graduation Coach. From there, she went on to earn her Master's in Counseling at IUPUI.
Tina Mutz has been in education for over 6 years with 2 years as a school counselor at Milan High School. The counseling department at Milan has received national recognition from ASCA and has been awarded the prestigious Gold Star Award. Becoming the counselor at Milan is the perfect fit for her as she firmly believes that all students have the ability to succeed.
For more information from Milan High School's Guidance Department, please visit link. (located under the Milan High School page under the counseling/guidance tab.
Stephanie Schwing-Stamper - Social and Emotional Learning Coordinator 5-12
Email: stephanie.schwingstamper@milan.k12.in.us
MES Phone: 812-654-2922
MMS and MIS Phone: 812-654-1616
Ms. Schwing-Stamper is a licensed mental health counselor with 11 years of experience working with young children, adolescents, and adults across the state of Indiana. She received her bachelor of arts degree from the University of Southern Indiana and her master's degree from Indiana State University. Since that time, she has worked in schools in South Bend, Greencastle, Indianapolis, Batesville, South Ripley, Jac-Cen-Del, and now Milan. She also has experience working with youths in a residential/hospital setting as well as a detention center. Her passion is working with at risk youths, helping them find their purpose, and helping them find ways to make a difference. She greatly enjoys the opportunity to work with the students and families here in Milan, both individually and through Milan's C.A.R.E.S. leadership programs. Ms. Schwing-Stamper welcomes any students and families to reach out as needed.